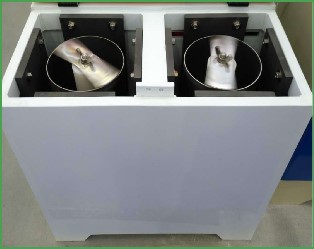 Ⅰ. Background
Because gold is one kind of precious metal, but also is a toxic chemical. If waste water containing gold is discharged without any processing, it will be very harmful for human and environmental and government also do not allow to discharge. According the principle of eco-discharge and clean production, gold & silver electrolysis equipment can recovery the gold or silver from the waste water and provide income for the factory and protect environment.
(Our machine also could be used for film chemical)
Ⅱ. Characteristics
1、This machine use rotating cathode, high-frequency impulse method to electrolyze. So it only uses less power (150-250W) to avoid secondary pollution and doesn't need any chemical reagent.
2、With compact small appearance and easy operation, the machine doesn't need any special staff to guard. Meanwhile, its lifetime is very long because of antiseptic design. It can also process 6000-18000 silver containing water every month.
3、Recycle rate is above 99% and silver purity rate is above 95%.
4、After processing, precious metal content in the liquid waste: silver is less than 5-20ppm, gold is less than 2-10ppm
5、With no consumable item and electrolysis accelerator, machines' operational and maintenance cost is very less.
6、Without any special tools, the machine can take 96%-98% silver out easily. After sintering process, the content rate is above 99%。
7、Gold process only need one time to avoid unnecessary waste, because gold has small volume and easily scatters.
8、Same solution to recycle film water (fixing bath)
9、We already have many mature products. Meanwhile, we can also customize suitable machine for clients.
Ⅲ. Recovery Equipment Design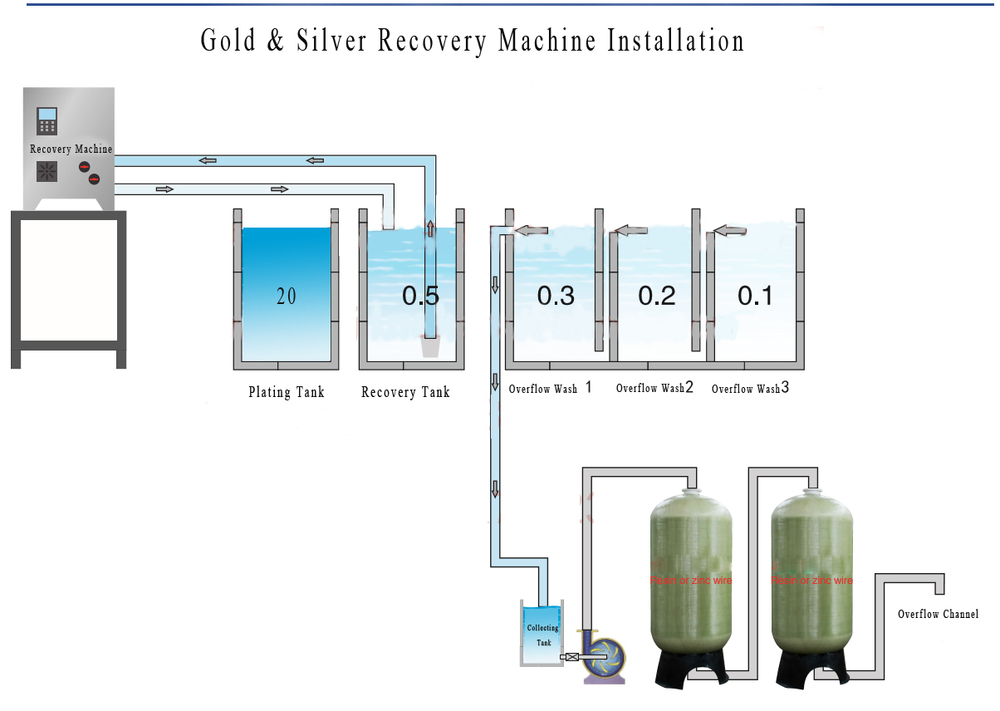 Ⅳ. Technology Introduction
1.There is a 1200mm*1200M*800mm restore tank in the basement, which is used for gold recovery.
2.Gold tank waste water will go through gold recovery system firstly. When electrolysis gold recovery equipment work less than 24H and gold content is less than 1ppm, the waste will go through restore tank for recovery.
3.Overflow wash will has an 300L auto collecting tank. When the liquid level reaches to the set level, resin adsorption tank will absorb gold or silver automatically.
4.When gold content is less than 1ppm, waste will be changed to go through collecting tank and then gold will be absorbed by resin.
5. It is auto model from electrolysis gold equipment to gold recovery tank. But when change and maintain gold tank liquid, it can be changed manually.
Ⅴ. Operation Process
1、After finishing installation, adding appropriate water (about 5L) into recycle machine's electrolytic cell.
2、Put in the recycle bucket or the net.
3、Open inner and outer circulation valve and inlet valve.
4、Open the power, stir, pump switch, and indicator light will be on.
5、After expelling inlet tube's air, the outlet tube's water will flow out. Turn off the inner circulation switch (just traverse).
6、Press "+", "-"button to adjust voltmeter watch hand to 1.5-2.
7、For first time use, adjust voltage to about 1.5V and monitor about few hours to check gold and silver recycle effect. The best effect is no falling off. If voltage number is more smaller , the recyclable gold and silver will be more hard but recycle speed is more slow. If voltage is more bigger, the recyclable gold and silver will be more soft and caducous but recycle speed is more faster. Please adjust according real requirements.
8、When stopping work, expel electrolysis water or pull out the negative pole. Separate the recyclable gold or silver from electrolysis water, because metal will be dissolved by cyanide for long-term soaking.
Installation tips:
1、The machine water outlet level must be over the liquid waste groove height.
2、The machine should near the liquid waste and installation distance should not be more than 3 meters.
3、Water inlet is 20mm diameter pvc tube and suitable wired hose. Meanwhile, there is a back-pressure valve in the water inlet's bottom during installation.
4、The outlet is 40mm diameter pvc tube and it is installed in recycle liquid waste.
5、After installation, please adding water to expel tube's air. Please refer to operation instructions.
6、The return line should not be too long and please do not has two U type tube or two W type tube.
Wrong installation case:
Case 1: The marked place will retain air, so the liquid could not return.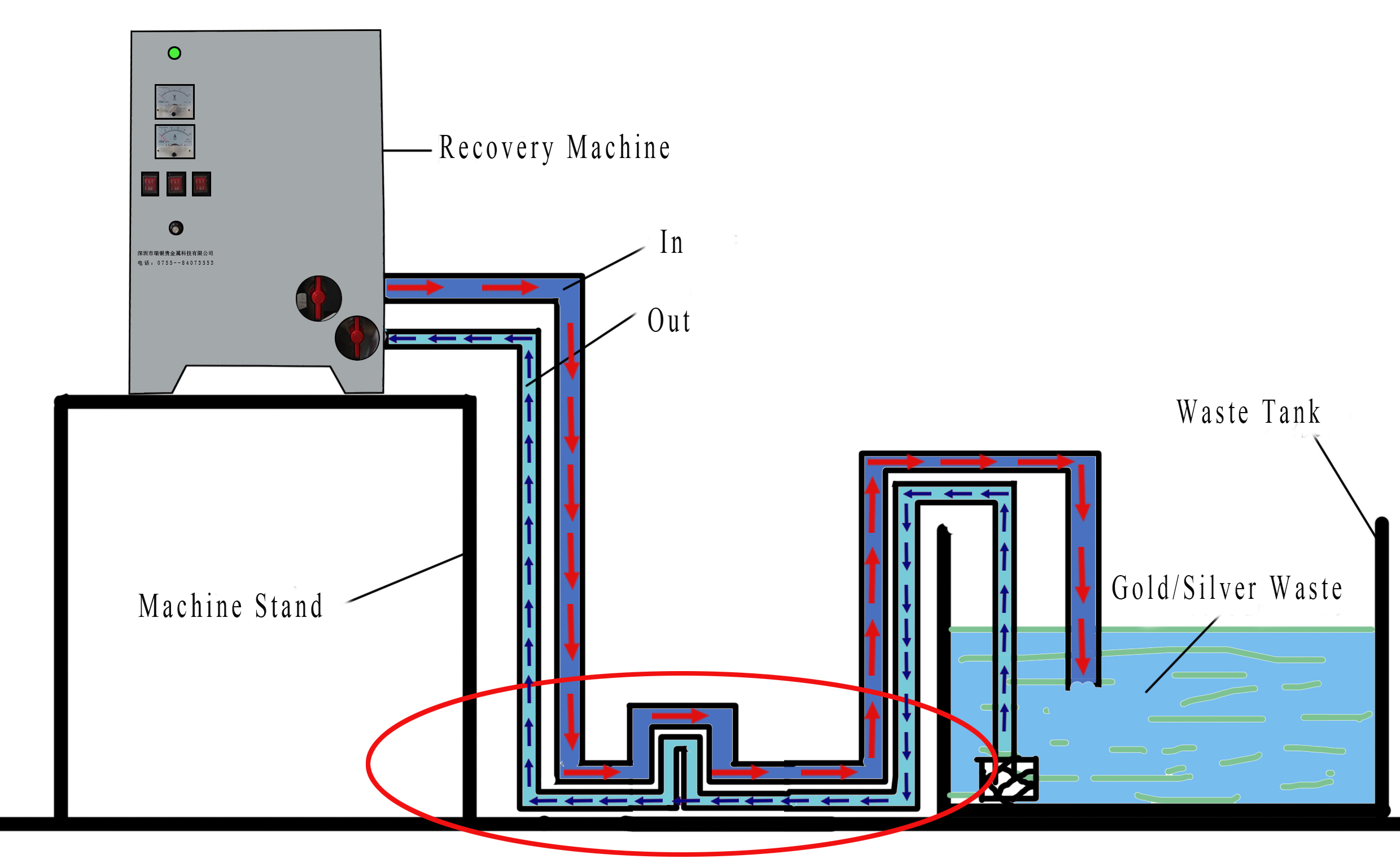 Case 2: The marked place will retain air, so the liquid could not return.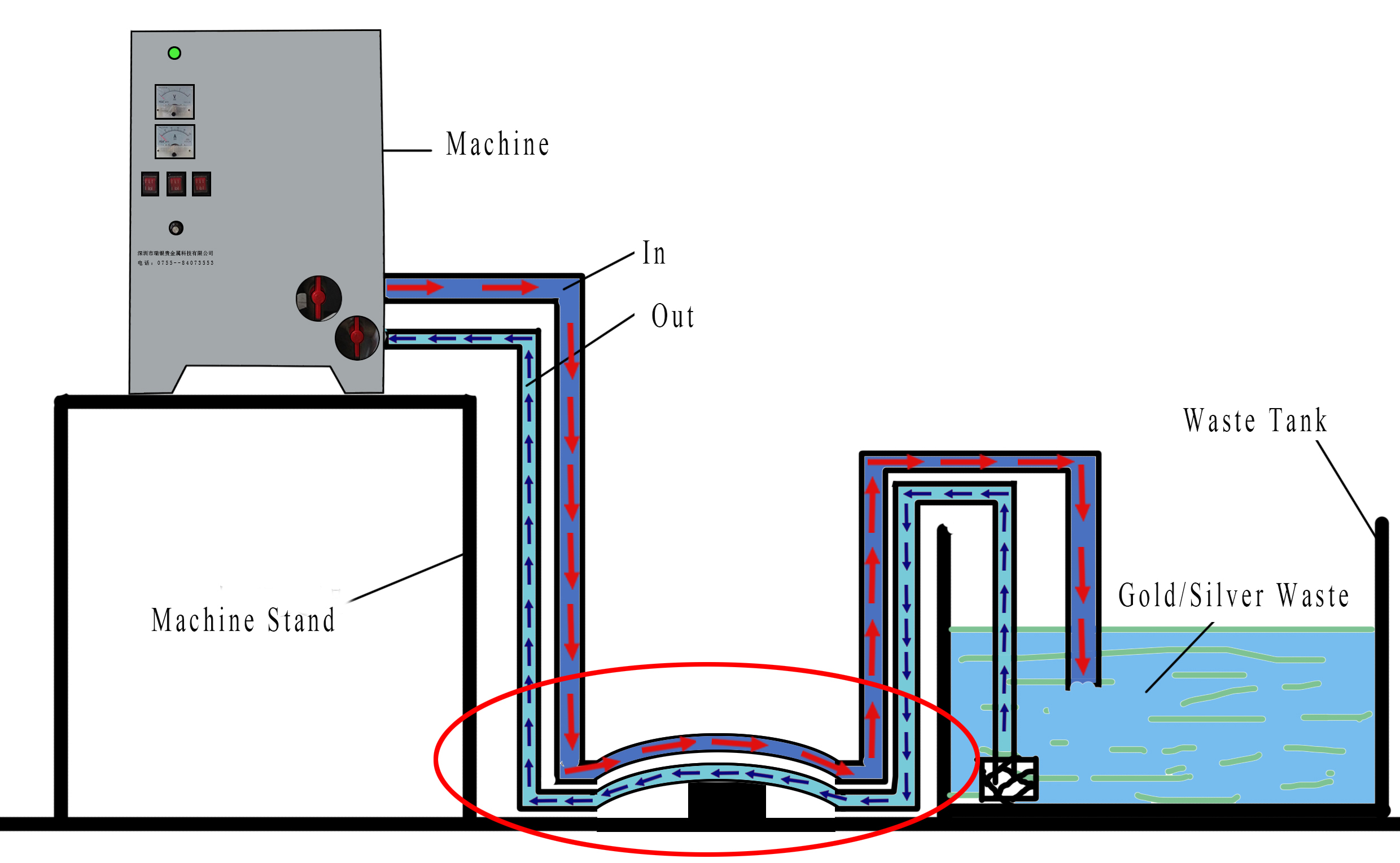 Ⅵ. Installation Requirements
| | | |
| --- | --- | --- |
| Program | Requirements | Provider(suggested) |
| Area | 300mmx400mmx600mm | Client |
| Height | Above 2500mm | Client |
| Distance from Production Line | Within 5m | Client |
| Power | Connect with Equipment | Client |
| Water | No need | Client |
| Exhaust fan | No need | Client |
| | | | | | |
| --- | --- | --- | --- | --- | --- |
| | Model | Voltage | Power | Recyclable Water Volume | Specification |
| 1 | LD200 | 220V 50-60Hz | 300W | 100--200L | 300x450x600 |
| 2 | LD400 | 220V 50-60Hz | 350W | 200--400L | 600x450x600 |
| 3 | LD600 | 220V 50-60Hz | 400W | 300--600L | 900x450x600 |
| 4 | LD800 | 220V 50-60Hz | 500W | 400--800L | 1200x450x600 |