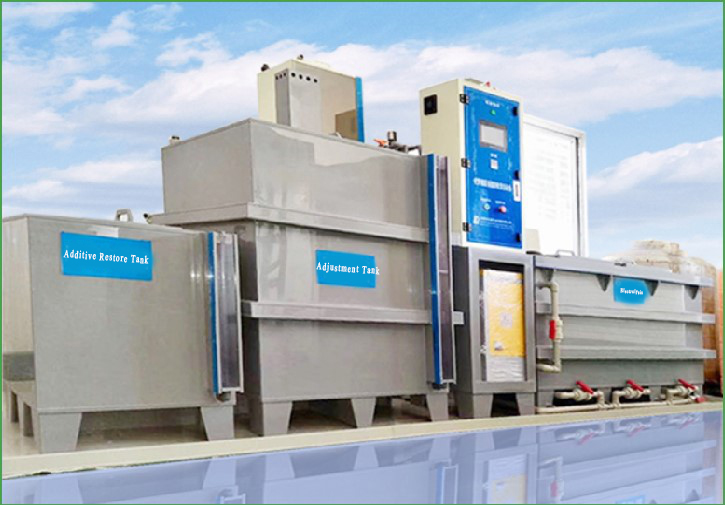 Ⅰ. Background
Electroless Nickel/Immersion Gold is one of important process in PCB production line. But after couple of period, electroless nickel liquid will become waste because of ageing. There is 4~5g/L Ni2+ in the waste. Nickel is a kind of high value heavy metal, but it is also carcinogenic and sensitized. Because environmental protection standards become more and more strict, traditional waste water treatment couldnot meet the new standards. Not recycled the nickel directly by current used recycle nickel method, like chemical precipitation, ion exchange method, adsorption method and so on. Still need one more step to process nickel deposit or use ion exchange resin to recycle waste. The whole process will use very large equipment with large area, and the waste after processing also couldnot meet the environmental standards.
After our many years research, test and development of nickel waste, we developed a electrolysis solution for nickel waste: electrolysis reaction of mix chemical nickel and rinse concentrate water in the nickel cylinder (4-5g/L nickel). After electrolysis, nickel content is less than 100ppm/L and reaction time is 8-12H. Recovery rate is more than 97%. And then after two level oxidation filtration, the waste can meet the standards.
Our equipment patent No. 201420533980.7.
Ⅱ. Processing Flow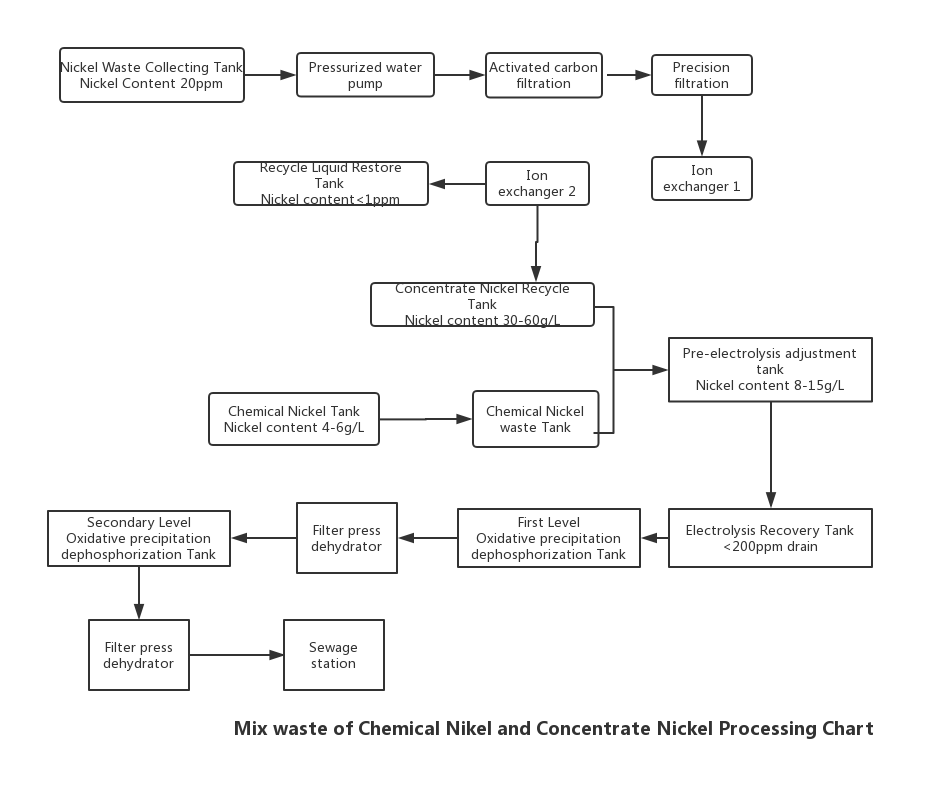 1.Electroless Nickel or overflow water from rinse tank collecting tank.
2.Booster pump provide pressure for original water
3.Activated carbon filtration to absorb left oxygen and all kinds of organic matter.
4.Precision filtration prevent granules into equipment and ion exchange tank to avoid damaging equipment and decreasing ion exchange ability.
5.Ion exchange system: by resin of ion exchange, absorb all kinds of metal ion in the water and decrease metal ion content.
6. Nickel recovery tank collect metal ion from resin
7.Electroless Nickel collecting tank to restore waste.
8.Before electrolysis, adjust Electroless Nickel, concentrate nickel and addtive.
9.Recovery nickel and phosphorus in the electrolysis tank.
10.Two level oxidation precipitation press filtration
11.Integrated sewage station pool
Ⅲ. Nickel waste electrolysis equipment design & installation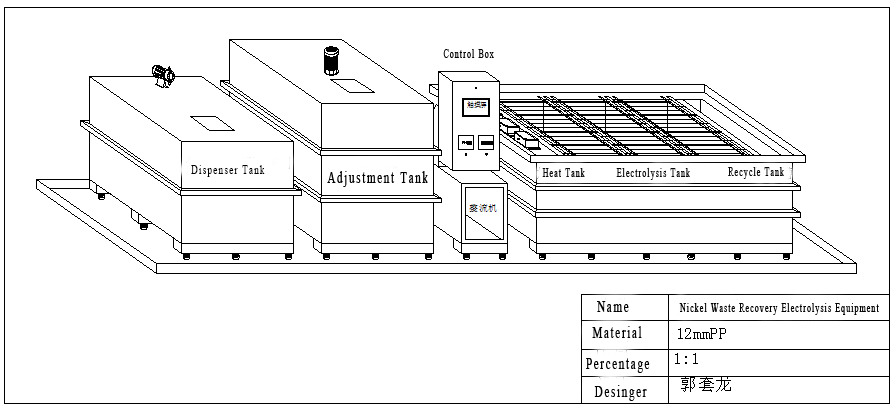 Ⅳ. Comparasion Form of pre-electrolysis & after-electrolysis
Comparasion Form of pre-electrolysis & after-electrolysis

Program

Pollutant

Content

(Pre-electrolysis)

Content

(After-electrolysis)

Nickel-plated

cleaning water

Ni2+

<20mg/L

Lower than test line

COD

<50mg/L

<30mg/L

Nickel waste

Ni2+

5000~6000mg/L

<5mg/L

COD

20000~30000mg/L

4000~5000mg/L

phosphorus

15000-20000mg/L

<10mg/L