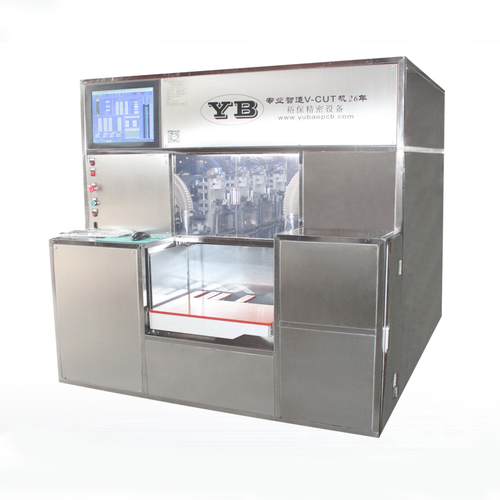 YB-500
Hi-quality Computer-controlled V-CUT machine
1.Fast and convenient automatical operation with CNC
2.Low down the cost of human power with fast speed and high efficiency with the max of 40 meters/minute.
3.Auto feed and release boards,simple and time-saving operation,avoid scrathcing the boards with air-pressure feeding.
4.Auto record the production quantity, the meters cutted by cutters are under monitor.
5.The cutters are changed with AI to avoid the cutter knock and wrong operation.
6.Big operation screen,simple and clear with super memory capacity.

7.The machine has very good self-protective function, so the failure rate is very low and the later maintenance cost is very low.
Model:YB-500-6
Cutters quantity: six cutters

Machine size:long1.9M *wide1.6M *hight1.8M

Max board width 480mm no limit to the length of board

Min board width75 mm board length75mm

Process area:

Residual thickness: 土0.05mm

Parallel: 土0.05mm

Space: 土0.05mm

Process board thickness:0.6mm-3.0mm

Power need:AC380V

Min distance from the edge of board to cutt: 3mm

Air pressure need:6kg/cm2

Max process speed:40m/min,15m/min(Alluminum substrate)

Dust collection flow:36m3/min

Feeding and receiving mode:auto

Housing of machine:stainless steel
Model:YB-500-8
Cutters quantity: eight cutters

Machine size:long2.2M *wide1.6M *hight1.8M

Max board width 480mm no limit to the length of board

Min board width75 mm board length75mm

Process area:

Residual thickness: 土0.05mm

Parallel: 土0.05mm

Space: 土0.05mm

Process board thickness:0.6mm-3.0mm

Power need:AC380V

Min distance from the edge of board to cutt: 3mm

Air pressure need:6kg/cm2

Max process speed:40m/min,15m/min(Alluminum substrate)

Dust collection flow:48m3/min

Feeding and receiving mode:auto

Housing of machine:stainless steel
Model:YB-500-10
Cutters quantity: ten cutters

Machine size:long2.45M *wide1.6M *hight1.8M

Max board width 470mm limited 1550m

Min board width75 mm board length75mm

Process area:

Residual thickness: 土0.05mm

Parallel: 土0.05mm

Space: 土0.05mm

Process board thickness:0.6mm-3.2mm

Power need:AC380V

Min distance from the edge of board to cutt: 3mm

Air pressure need:4kg/cm2

Max process speed:40m/min,15m/min(Alluminum substrate)

Dust collection flow:60m3/min

Feeding and receiving mode:auto

Housing of machine:stainless steel